Let us clear out your masked bandits with our raccoon infestation services!
Raccoons are very interesting and smart creatures. They have highly sensitive paws, are adept at remembering how to do certain tasks years after learning them, are very intelligent and curious, and are able to live in a variety of different places. Raccoons are often found in areas where humans are nearby because they love to rummage through garbage looking for edible food and scraps. While an overturned trash can or broken bird feeder are annoying signals of a raccoon in your yard, it is nothing when compared to a raccoon infestation in your yard or home. If you need help with a raccoon infestation, we at Wild Science Solutions would like to offer specialized solutions to help you.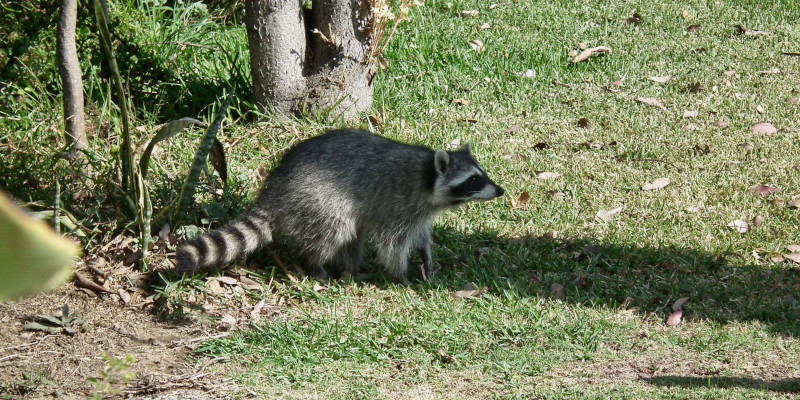 Available to service homes in Fuquay-Varina, North Carolina as well as the surrounding areas, we are able to help with your raccoon infestation problems. Raccoons frequent areas that are near humans and can easily enter your home. With nimble digits that are highly adept at clawing and opening along with sharp teeth that easily bite through wires and even drywall, raccoons are able to gain entrance to a home relatively easily– sometimes without the knowledge of the homeowner. Since raccoons are mostly nocturnal, it is not uncommon for people to have raccoons living in their attics or crawlspaces relatively unnoticed.
Raccoons can spread diseases like rabies, distemper, fleas and other parasites. Additionally, they also can cause severe damage to your home by chewing through drywall, wiring, boards, scratching and contaminating the space with waste. If you have a raccoon infestation in your home, it is best to contact our experts to ensure the safe removal of your raccoons. For more information, please contact us today.
---
At Wild Science Solutions, we help customers by removing raccoon infestations in Holly Springs, Fuquay-Varina, Cary, Apex, Morrisville, Clayton, Garner, Raleigh, Durham, Chapel Hill, Wake Forest, and Research Triangle Park (RTP), North Carolina.