Our bat removal services offer a humane option.
When thinking of wildlife removal services, many people think about squirrels, rodents or maybe snakes, but did you know that many properties here in Apex, North Carolina and surrounding areas need help with removing bats, too? Bat removal services are more common than you would think, and our team here at Wild Science Solutions would like to help humanely remove these creatures if they are nesting in your home, business or other property.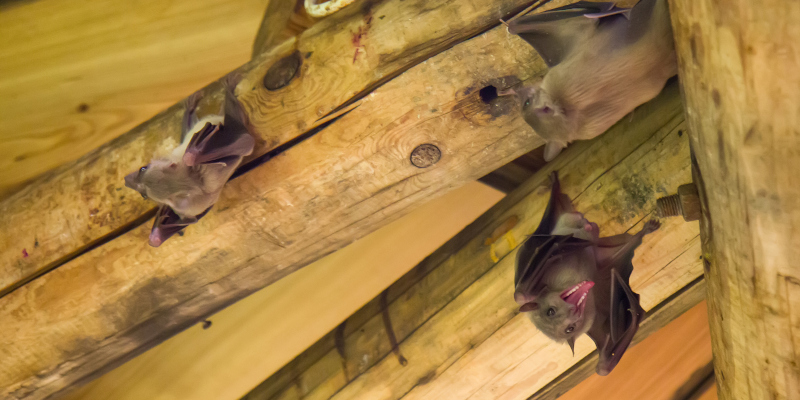 Because bats are primarily nocturnal, it isn't always immediately apparent that you have a bat in your home. They sleep during most of the daylight hours and then leave to hunt and forage during the nighttime. North Carolina is host to over 17 species of bats, some of which are endangered. As a biologist-led company, we appreciate the bat for its efforts in pollination, insect control and scientific discovery. That is why we always work towards gentle and humane bat removal services.
Once we have completed our bat removal services, we will get up on ladders or crawl into tight spaces to find and photograph their points of entry. We will then take the time to discuss these photographs with you and point out potential entry points and fixes. We then can offer you solutions for repairs, so you don't have a recurring problem.
We offer many conveniences when it comes to bat removal and other wildlife removal services, including 24/7 emergency calls. We respect your time and will always give you a call before your appointment to let you know if we are running late. With free estimates and no surprise bills or unauthorized charges, our customers appreciate our honesty and up-front approach to bat removal. If you have questions about our bat removal services, we want to help. For more information, please contact us today.
If you have questions regarding bat removal, we would be happy to answer them. For more information about our variety of pest removal services, including bat removal, please contact us today.
---
At Wild Science Solutions, we offer bat removal services for customers in Holly Springs, Fuquay-Varina, Cary, Apex, Morrisville, Clayton, Garner, Raleigh, Durham, Chapel Hill, Wake Forest, and Research Triangle Park (RTP), North Carolina.